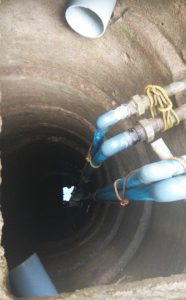 The steady rain on Wednesday night was good enough to recharge the well in the campus of Murali Anand Apartment in Mandaveli.
This has happened after they modified their Rain Water Harvesting (RWH) structure. They said they must have saved around 7000 litres of water.
Besides recharging the groundwater, the residents are also replenishing the 70-year-old well in their premises (shown in photo). A few weeks ago, 12 families at this complex pooled Rs 30,000 for this modification.
Earlier, this complex in Raja Street Extension had two 10ft deep recharge wells. "But we realised that it was not enough to tap all the water that accumulated during rainfall. So, we connected them to our well," says N. Ravichandran, a long-time resident and a former secretary of the local association.
In addition, five PVC pipes have been laid to empty the rainwater from the rooftop to the well.
This evening, Uma Krishnan, secretary of Murali Anand Flat Owners Association was overwhelmed with happiness. She said, "In addition to saving a large amount of water, we could also revive the well where the water had turned salty. Though the well has never gone dry, the water had become salty during the April/May, this year when the water crisis was at its peak, " says Uma.
Later, on the suggestion Ravichandran, Uma says they approached Sekar Raghavan of Rain Centre in Adyar. "He advised us to construct a filter chamber with sand, pebbles and a mesh to filter the rainwater before it flows into the well," she says
The residents say its construction made a huge difference to the water quality. "But still, the water was slightly salty. However, after the recent rains, it is of good quality. And our well water has risen by 5 ft," she says.
The residents now use this water after it is raised to their overhead tanks.
People who may want to replicate this RWH technique may contact Ravichandran at 9840709577.