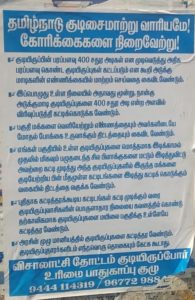 While Tamil Nadu Slum Clearance Board (TNSCB) has plans to reconstruct the dilapidated Slum Board tenements in many parts of Mylapore, residents are raising their issues in public.
A few weeks ago, officials of TNSCB pasted notices at the blocks of the doors of flats in colonies that were going to be demolished.
While Deputy Chief Minister O. Paneer Selvam inspected Valeeswaran Thotam at R. A. Puram that is set to be demolished soon, the residents of Kapali Thotam, a TNSCB colony near the Thirumyilai MRTS station (where small flats are also slated for demolition) have pasted posters at public places.
The posters (shown in the photo here) list the requirements which the residents wish to be considered before the reconstruction of their colonies.
Krishnakumar, a resident of Kapali Thotam said, "We want the officials to hold a meeting and hear our concerns before they start the reconstruction work."
Photo by Krishnakumar, Kapali Thotam.