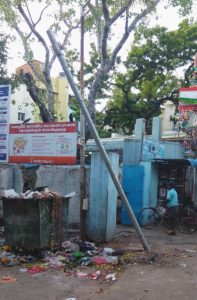 A utility pole that is said to be erected by a private ISP (Internet Service Provider) remains dangerously tilted at Mundagakanni Amman Kovil Street, Mylapore.
Says Ravi, a resident of Mylapore, who was here on Monday evening."This pole may fall anytime causing a danger to the pedestrians and motorists."
Also, since the garbage bin is located nearby, residents say the pole would hinder the garbage lorries or water tankers that might turn from this Street. "We do not understand how the ISP chose this location for erection of a pole that too without providing any support for its stability," he says.
Since the past few weeks, many private ISPs have constructed such utility poles at several parts of the neighborhood. However, it is unclear if their work is authorized by the Chennai Corporation.