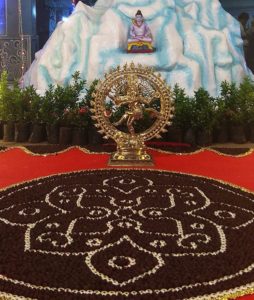 As Navarathri unfolds, the festivities at Mylapore's temples highlights the religious and social sides of it.
Once inside any temple, you are slowly drawn into the colour, sound and prayers of the season.
On Monday, at Sri Kapaleeswarar Temple, Mylapore volunteers had made a special decoration and a kolam with rudraksha seeds in the Navarathri mandapam.
Devotees are packing into the temple and many are from across the city.
This evening, many seniors drooled on the jadai alangaram of Sri Karpagambal. Said Kamakshi, a senior Mylaporean, "Every Navarathri, it is customary for us to see the jadai alangaram of the goddess besides other decorations here."

Each day, the goddess's jadai will be unique. On Monday, it was made with flowers, including jasmine and kanakambaram (firecracker flower).
At Sri Mundagakanni Amman Temple, Mylapore, the goddess was decorated with a special gowri alangaram and was placed on the Annam vahanam.
The temple displayed a kolu; a small and colorful kolam made with rice flour and salt crystals was drawn in front of the kolu.