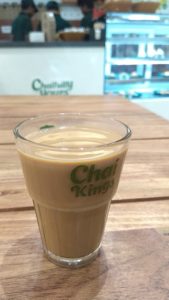 Chai Kings, a retail tea outlet known for offering a variety of tea at affordable prices has opened at T.T.K Road, Alwarpet. With a seating capacity of 25, the shop offers a number of flavoured chai options – ginger, masala, sulaimani, dum, lemon, and tulsi, being some of them.
Apart from tea, it has introduced filter coffee and cold coffee too. One can also choose to have cookies, vegetable puffs or samosas along with their favourite beverage.
Read a note at the shop, "Our ingredients are sourced from the finest tea plantations and from highly reputed tea companies in Assam, Darjeeling, and Nilgiris. We ensure that no artificial elements are included in our preparation."
The shop also provides an option of delivering the tea in a cardboard flask (500 ml). A cup of ginger tea is priced at Rs.25.
At 85/4, T.T.K Road, Alwarpet, near the cupcake company. Timings: 8 a.m. to 10 p.m. Ph:  9962953628.