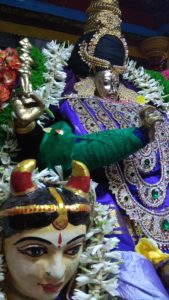 Mylaporean Kannagi was at Sri Kolavizhi Amman Temple on Tuesday evening. In her hands were containers holding sundal and variety rice.
Every Navaratri evening, Kannagi, after the ritual puja at her residence carries the snacks to be distributed among people at the temple.
And often, there are a dozen looking out for Kannagi. "The ghee-laced sakkarai pongal and black sundal that I make is a big hit. Some people ask for a second helping."
This evening, the goddess was on khamadhenu vahanam, adorned with a beautiful blue silk saree and shining jewellary. Besides this, the center of attraction at this temple was the oonjal, where the utsav murthy of Sri Badrakali Amman was placed.
Devotees swung it gently back and forth as they offered their prayers.
This is a festival where women also feel good when their snacks are appreciated. Like Kannagi, there are many others who offer even to strangers at the temple.
At Sri Karaneeswarar Temple at Bazaar Road, Mylapore, a fish tank with small fishes was kept in front of the kolu. Said Shanmugaguru, the gurukal at the temple, "We wanted to have a living thing along with our kolu. So the children came up with this idea," he says.
Now, these children have been bringing friends to see the kolu.
The temple has also placed mud-filled trays in front of the kolu. "We have sown seeds of nine pulses (navadaniyam) including bengal gram, green gram, rice, white beans, black sesame seeds, chickpeas, black gram and few others inside them."
Here too, once the prayer and rituals are done, people wander off to get a snack.
Two young volunteers – Rajesh and Rangarajan – distribute the snacks of the evening. Says Rajesh, "Though we are residents of ECR, since we work in Mylapore, we visit this temple often and have become attached to it. Hence, we offered to help when the temple gurukal sought it."