ART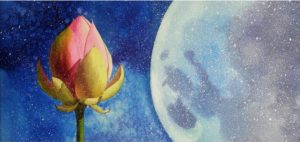 KOREAN ART
'Healing strokes', an exhibition by five contemporary artists from Korea who will examine how art can soothe, cure and heal society. Open till Nov. 24 on all days except Sundays. At The Gallery@InKo Centre, 18, Adyar Club Gate Road, R. A. Puram. 10 a.m. onwards. Ph: 24361224, 24361226.
BY CHENNAI ARTISTS
An exhibition of paintings in memory of sculptor S. Nandagopal. By senior artists of Chennai. At Artworld, 1/12, Ganeshpuram 3rd Street. Till Oct. 27. 10.30 p.m. onwards. Ph: 24338691.

WORKSHOPS
STONE PAINTING
Learn to paint flowers on the three dimensional surface of a pebble stone. Pebbles, reference photo and outlined templates will be provided. Bring your own paints and brushes. Can choose from four sessions. At Aavishkaar's Work Space, C. I. T. Colony, Alwarpet. On Oct. 19 and 20. Rs. 800 per head. 9 a.m. to 1 p.m. and 2 p.m. to 6 p.m. For details call 9940056618.
MAKING CHOCOLATES
Make your own chocolates at this workshop. Organised by Frangipani Culinary Expressions. On Oct. 19. At Crescent Boat Club Villa, R. A. Puram. 11 a.m. For details call 9962048088, 9381201984. Paid event.
HEALING ONESELF
Life Coach Uma Girish will give tips on how to manage emotions and learn the art of self-acceptance at this workshop. Uma has worked with women grieving losses and has written several books. Organised by Sahayam Charitable Trust. At Hotel Raj Park, T. T. K. Road, Alwarpet. On Oct. 19. From 9.30 a.m. to 5.30 p.m. Paid event. Ph: 9677139990.
MAKING LANTERNS
Priya Subramanian from Mumbai will conduct a kandil deepavali lantern making workshop on Oct. 20. Art material, bulbs, wires and other materials will be provided. Open to all. Parents must accompany children aged 8 years and below. Fees is Rs. 700. At Yoga and Happiness Centre, Vel's Kinder Kids side entrance, Ranga Lane, Mylapore, 3 p.m. Ph: 9500050776, 8884100232.
SHOPPING
HOME NEEDS
Mega Deepavali Bazaar organised by Rainbow Events. Lifestyle and home needs items on sale. On Oct. 19 and 20. At Sri Sankara Hall, T. T. K. Road, Alwarpet. 10 a.m. onwards.
KURTIS, SAREES AND MORE
Deepavali sale of kurtis, palazzos, salwar materials, sarees and more. Jewellery, gift bags, cookware and home made pickles on sale too. Put up by MOOWES, an NGO for women entrepreneurs. At C. P. Art Centre Main Hall, 1, Eldams Road, Alwarpet. From Oct. 22 to 25. 10.30 a.m. onwards. Ph: 9380034559, 9791012085.
COTTONS AND SILKS
A sale of Kanchipuram silks, cutwork, Banarasi and Kalamkari sarees, blouses and cottons. At The S Studio, 10/12, 6th Cross Street, Mylapore. Till Oct. 23. Website: www.theSstudioonline.com. Ph: 9840476171.
HANDPICKED WEAVES
Two Indian clothing brands, Mulmul and 1989, will be showcased by WeaveinIndia this festive season. Choose from handpicked pure cotton kurtas, pyjamas and dupattas by Mulmul. 1989's traditional collection will include salwars and patialas. At 29, Chithranjan Road, Alwarpet. Till Oct. 19. Ph: 9884982840.
MISCELLANEOUS
IN MEMORY OF MANDOLIN U. SRINIVAS
A mandolin concert will be given by Aravind Bharghav in memory of Mandolin U. Srinivas on his 50th birth year. He will be accompanied by M. Shrikanth, Sherthalai Ananthakrishnan and Mysore M. Gururaj (Morsing). Organised by Nadopasana. On Oct. 21. At Raga Sudha Hall, Luz, 6 p.m. Open to all. Ph: 24992672.
A CONCERT FOR A CAUSE
Pioneer Music Gym, a group of passionate non-professional singers, will perform Thamizh and Hindi songs at a live orchestra event to be held on Oct. 19. All the proceeds from the concert will benefit Vidyarambam Trust, a not-for-profit group that helps in educating poor children. At Music Academy, T. T. K. Road, Alwarpet. Paid event. Ph: 9841035835.