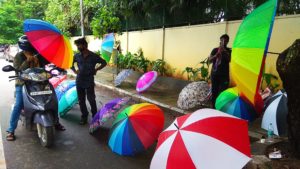 This nook opposite to Trimex Towers at C. P. Ramaswamy Road, Alwarpet wore a colorful look last Thursday.
The seasonal hawkers had spread  umbrellas of different colours and patterns for their sales this monsoon season.
People who bought the big umbrellas said they preferred them as it gave them more cover during rain. "And sometimes, since it has a curved handle, it doubles up as a walking stick too," said one shopper.
They were sold anywhere between Rs. 200 and 300.
Similar umbrellas are also available for sale at the pavement off South Canal Bank Road in Mandaveli.