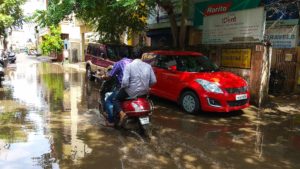 Due to the steady rain on Thursday night, several streets of Mylapore were flooded.
On Friday (Oct 18) morning, Mylaporeans pointed out that it was inconvenient for the motorists and pedestrians to wade through the flooded areas.
Waterlogging was seen at many places, including Kesavaperumal (East) Street (shown in picture), and V.C. Garden Street.
Abhiramapuram resident Sridhar Venkatraman said that it was flooded at parts of V.C. Garden Street, Venkatesa Agraharam Street, and Alamelumangapuram.
Sridhar said, "There are three rainwater harvesting structures on V.C. Garden Street. However, since the muck was present on its lid, it was not taking water. Hence, it was highly inconvenient, especially for the school children to walk on that road."
Some residents said that flooding happened due to incomplete de-silting of stormwater drains. Said Rajesh, a resident of Mandaveli, "The streets are flooding as the Chennai Corporation's contract workers have not completed de-silting the stormwater drain network. Hope they finish it soon."