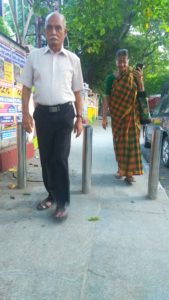 To avoid the encroachment of vehicles, especially two-wheelers on the newly broadened pavements, Chennai Corporation has recently erected bollards at P.S.Sivaswamy Salai, R.K.Mutt Road, and Venkatakrishna Road besides other streets in Mylapore.
A few weeks ago, the pavements were widened at these streets as a part of the Corporation's Smart City Project.
While steel bollards are erected in some parts, concrete ones are seen at other places.
This past week, one evening, a senior couple Chandramowli and Shanta from Mylapore said they were able to walk freely on the broadened pavement at R.K.Mutt Road.
Said Chandramowli, "The bollards are providing support for us to walk, and since I have knee pain it is even more helpful for me."
However, at P.S.Sivaswamy Salai, Venkatakrishna Road, and a part of R.K.Mutt Road from Mandaveli Post office that is under construction to the signal near Mandaveli bus terminus, two-wheelers and hawkers continue to encroach the pavements despite the bollards.
Interestingly, some people are seen using them to temporarily station their pets, and some others are using it as a place to sit and chat with friends.
Pedestrians say that the Corporation has to regularly keep a watch on the bollards so they are not damaged or stolen. Said Mani, a pedestrian, "Previously, there has been situations where people have stolen or damaged the bollards. Hence, the Corporation has to regularly maintain and keep a watch on them."