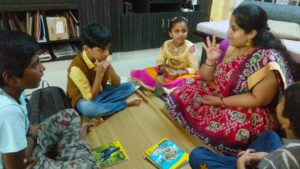 A few weeks ago, an enthusiastic group of children sat around Harikatha exponent Maanasa Dhotrekar to learn Dasavatharam in Harikatha style.
Through religious hymns, Maanasa taught them the 10 avatars of Lord Vishnu. And then each one went on to narrate the story in their own styles.
Says Maanasa, "Since the children are very interested in narration, they have developed their own ways of telling a story. Some express it in a comic way, and others narrate it by changing their voice modulation."
Recently, the Harikatha artiste started home-based Harikatha classes at San Thome. Maanasa who is also a Carnatic vocalist trained from Kalakshetra Foundation in Thiruvanmiyur is now training children to become Harikatha experts.
Maanasa started her formal training in music from the age of 10. She has been a regular Harikatha performer at various concerts in Chennai.
Now, this Velachery resident is taking weekly classes at an Apartment complex in Rosary Church Street First Lane off Kutchery Road. Nageshwari, a resident of this complex has offered to provide space for the same.

Says Nageshwari, "My son Rishi and few others got very interested in learning Harikatha after they attended Maanasa Ma'am 's class at a summer camp held by Teynampet based organization Tattvaloka. So we approached her to take classes."
Maanasa says that she first teaches the story and then trains the students to narrate it in Harikatha style. "Bhajans, slokas, and other religious hymns are intermingled with the stories at the necessary points," she says.
Says Nageshwari, "As the children are learning stories of various gods it is also helping in educating our cultural and religious values to them."
Harikatha being an art form that requires intensive training, Maanasa says she gives one on one attention to each child, so they understand the style properly. "After a few months of training the children would be able to perform in stage," she says.
The classes are taken for a fee of Rs.700 for four classes in a month.
They are held on Saturdays between 5 p.m. and 7 p.m., at 31/11, Narayana Apartment, Flat 3, First Floor, Rosary Church Street First Lane, San Thome. For details contact 9113872651.
Lead for the story came from Chitra Balasubramaniam