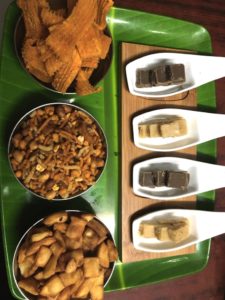 While many Mylaporeans on Saturday made quick buys of sweets at local popular shops, there were also families who chose to carry on a tradition of making them at home.
From mixture and ribbon pakoda to burfis and Mysore pak, these were made in the kitchen in a few hours.
Families got busy in the kitchen on Saturday to prepare small quantities of sweets and mixture to offer guests and neighbours and have some for themselves.
Here are photos of homemade sweets and savouries made Kalyani Muralidharan of Thiruvengadam Street and by Laksmi Vidhu in R. A. Puram.