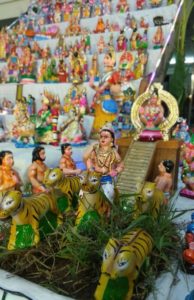 "Why are the same goddesses wearing different coloured dresses?" a curious 5-year-old asked her grandmother. It was Wednesday evening. October 2. The two were watching the kolu dolls at Sri Ayyappa Temple at MRC Nagar, R.A. Puram.
The girl's grandma Rasikala, a resident of Karpagam Avenue politely explained. The kolu here got many children curious and in some ways, achieved a part of what kolus must do.
This year, for the first time, the temple has kept a kolu for Navarathri. The nine-step kolu at their mandapam features, tala aatti bommais, artistes performing kathakali, a set of dolls depicting lord Ganesha.
Elsewhere, in the heart of Mylapore a song on Sri Kanchi Kameswari floated out of a speakers system at one end of South Mada Street. Sri Velleswarar Temple was abuzz.
Clad in traditional pink dance costume, a young artiste emoted the various stories about the goddess to a packed audience: they sat tight to watch the recital; it was well past 7.30 p.m.
At a nook off the yagasalai at this temple, a serious discussion was on. A senior Mylaporean was explaining to a group the stories of a kolu set, that he said was new this year at this temple.
He said, "The dolls here depict the life history of the naalvar (four Saivite saints – Thirugyanasambandar, Thirunavukkarasar (Appar), Sundarar and Manickavasagar.) I have not seen them in a kolu at local temples."
Later, we got to know that a devotee, who is said to have all the dolls depicting the life history of all the 63 Nayanmars had donated them.
Apart from this, the 8ft tall Nataraja idol, painted with bright gold attracted many devotees and photographers.