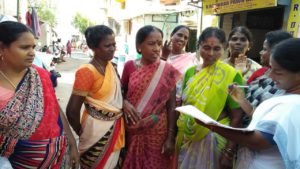 With the number of dengue cases on the increase in the city, staff at local Urban Primary Health Centers (UPHCs) are out in the field to keep a tab on people, especially children who are ill and to share words of advice.
Since this past week, UPHC staff have been visiting various colonies of the Mylapore neighbourhood areas to check if there are any symptoms of dengue among people.
The photo here shows a nurse surveying Visalakshi Thotam, located near Sai Baba Temple.
Vijayakumari, a staff nurse at UPHC at C.P. Ramaswamy Road, Alwarpet, says that only one dengue case has been reported in Mylapore.
She says, "Every day, we do house visits to locate people affected by fever. In case if they have had the fever for more than five days, we ask them to get their blood test done at the UPHCs. And if the cases are severe, we  refer them to government hospitals."
During their visits, she says, they ask residents to keep their surroundings clean and to not allow water to stagnate to avoid breeding of mosquitoes.
Listed below are a few UPHCs located across the neighborhood.
Bheemanampet UPHC (ward 123) – C. P. Ramaswamy Road, inside Lions Diabetes Centre, Alwarpet.
Mylapore UPHC (ward 124) – 22, Mundagakanni Amman Kovil Street, Mylapore.
San Thome UPHC (ward 125)-14, Appu Second Lane, Mylapore.
R. A. Puram UPHC (ward 126)- 17, R.K.Nagar, Second Main Road, R.A.Puram.
Photo: Vijayakumari