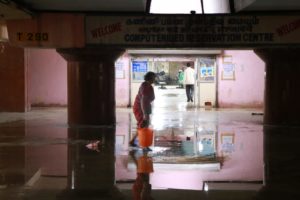 In a month's time, the local Railway Protection Force (RPF) personnel at Thirumayilai MRTS station say the post-rain water stagnation at this station will be set right.
Every time it rains, the Passenger Advanced Reservation Counter, on the station's first floor gets flooded causing serious problems to commuters. This happens due to a water leak from the railway track above this floor.
This evening too, slight water stagnation was seen on this floor after Tuesday's rain.
An RPF personnel said that recently, P.Mahesh, the new Divisional Railway Manager (DRM) of the Chennai Railway Division visited the station and noted the issues at various places here.
"He has taken up the issue of water stagnation in priority. So within a month, contract workers will start the repair works. The other maintenance works at the station will also be carried out subsequently," he said.