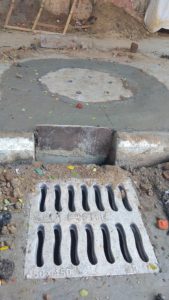 A month ago, contract workers dug the pavement off Venkatakrishna Road, Mandaveli to construct recharge wells.
Ten wells were planned on this road to avoid water stagnation during heavy rains. Construction of only one recharge well is complete. And cement rings have been sunk at five places.
Workers say the recharge well (shown in picture) near R. A. Puram Post Office is connected to a collection chamber. It has slits on its lid to let the water in but trap dirt.
Some shop owners on this road say they don't see the necessity of ten recharge wells here.
Says Ameed, owner of a tea shop, "Usually, the flooding takes place only in a section of this road. Most of the water runs off from this road and gets accumulated at the junction of R.K.Mutt Road and Venkatakrishna Road and inside the Mandaveli bus terminus. Hence, we don't see the necessity of 10 recharge wells."