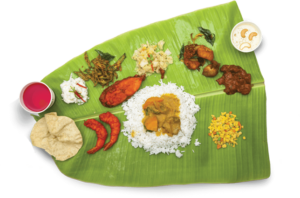 Virundu, a multicuisine restaurant has opened at Luz Church Road, Mylapore. This is a unit of MGM Hotels and Resorts. It is located in the place where Marrybrown restaurant was operating till recently ( opposite Amrutanjan).
The menu offers Continental, Chinese and Indian dishes. A wide range of vegetarian and non-vegetarian food, including seafood is listed on its menu.
The speciality here is its Gramiya Virundhu – the food items are cooked in earthen pots and served on a banana leaf.
 BBQ tandoori chicken, chicken lollypop and prawn tikka are among the meat-based starters.A chicken handi (manchatti) biriyani is priced at Rs.200.
The restaurant also offers door delivery. Located at 172/26, Luz Church Road, Mylapore. Ph:43574747,7824068600.
Picture courtesy : Virundu Restaurant