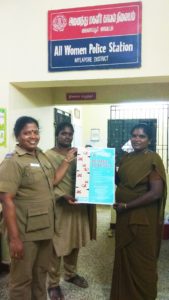 A few months ago, the Amma patrol vehicle was launched to ensure the safety of women in neighbourhoods and to address problems they faced or crimes against them.
As a part of the patrolling activities, the women police personnel attached to Mylapore have been spreading awareness on the law on POCSO (Protection of Children from Sexual Offences) at schools and in public places.
Sub-Inspector A.V. Sophia says that there is better awareness among girls and parents and when abuse takes place, the crime is reported.
Says Sophia, "In the last 24 hours, about 11 girl children from local schools reported their problems to us. We give them priority. Our colleagues will be out in plainclothes, investigate and if we find proof, pick up the accused."
To push awareness on POCSO Act, the women police have created a poster that can be pasted on the walls at local schools. The poster features attractive images and provides tips to children on how to deal with abuse or act in an unsafe situation. It also features the child helpline number – 1098.