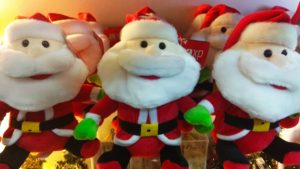 With just a few weeks to go for Christmas, shops in Mylapore are getting ready with decoration items, gifts, and goodies for the festival.
The Archies gift shop at Luz Church Road has started selling Santa Claus dolls (shown in picture), coffee cups, greeting cards, and small Christmas trees. A Santa Claus doll is priced at Rs.299 here.
At the souvenir shop inside the San Thome Cathedral Church, a wide variety of crib sets, decoration items, Christmas trees and more are available for sale.
The shops on R.K.Mutt Road opposite Thirumayilai MRTS have also stocked Christmas stars made of colorful materials, decorations and other Christmas goodies.