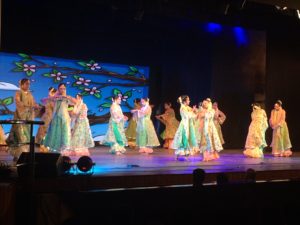 Devaniya, the first school of Kathak in Chennai which is based in Venus Colony's 2nd Street, Alwarpet was launched in November 2009.  On Sunday evening at Narada Gana Sabha auditorium, Alwarpet 116 of its dancers – seniors and juniors – went on stage in parts to present a colourful evening of dance titled 'Vistaarana' to mark its milestone of 10 years.
The auditorium on TTK Road was packed to the aisles and the appreciative audience, many being families and friends of the dancers applauded heartily after every dance piece was presented.
In a tribute to the city of Madras that is Chennai, Devaniya's founder and guru, Jigsaya Giri presented dancers who performed to a Thamizh song against the backdrop of a screen that highlighted iconic images of the city.
Jigsaya said that in the early years she realised that she had to adopt and adapt her own knowledge and training in Kathak to the huge, local cultural influences and movement of the bodies of her students and hence a new form she calls the Dakshin gharana of Kathak has taken root and flowered.
A number of the young students at Devaniya have first been exposed to Bharatanatyam in their training and then, when they chose to learn and perform Kathak infused their dance with the early influences.