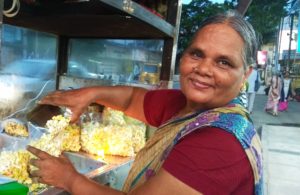 "We have been selling popcorn here for the past 50 years," says G.Viruthamba standing beside her shop on Royapettah High Road off Viveks shop.
And, hence this 60-year-old still has regular customers from various parts of Chennai.
The popcorn seller is continuing the business, that her husband late Ganapathy first started on this street.
Viruthamba says customers from all over Chennai who were previously residents of Mylapore and have been regulars at her shop still come to buy popcorn from her.
She says, "Every week, one customer comes from Purasaiwakkam just to buy popcorn for Rs.300 (a small packet of popcorn is priced at Rs.10). There is another one who comes from Anna Nagar."

Every day, after buying popcorn seeds from Parry's corner, Viruthamba cooks it at her cart. "Later, I add the popcorn masala and oil, and pack them in small packets," she says.
Viruthamba stays with her son and daughter-in-law at Nattu Subbarayan Street, Mylapore. "We have settled all our children by doing this business and other daily wage works. Now, I wish to serve customers for a few more years," she says.
Her shop will be open from 5 p. m. to 9 p.m. on R. H. Road off Viveks shop.