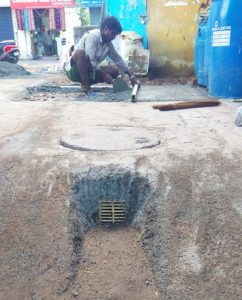 Residents of Dargah Colony which is located off Kutchery Road, Mylapore were affected when sewage flowed on to the street.
Since then they say the issue has recurred many times. They say Metro Water officials are yet to provide a permanent solution to this problem.
This colony that has over 50 families in the Jamma Masjid area.
Bukhran Mohammed, a resident says sewage water flows out into the open whenever the manhole chambers on Kutchery Road get blocked.
"When we complain to the Metro Water office, their staff fix the issue temporarily. The problem recurs."
Frustrated residents have taken things into their own hands and raised the level of this lane. A slit has been fixed outside the manhole chamber to drain the sewage water back into the sewer line.
Bukhran says he spent Rs.40,000 for this civic work."We had to do this as people, especially children were falling ill often," he says.
In addition, the residents say rainwater also floods their street as it is at a low-level from Kutchery Road.
Metro Water's engineer who oversees ward 125 says, "For the past one month, we have not received any complaints of sewage water flooding in this colony."
So why does the problem reccur? He does not have an answer but promises to investigate.