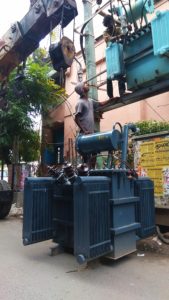 To prevent power overload at transformers and the resulting power cut in summer, TANGEDCO officials are fixing higher capacity transformers in Mylapore.
On Nov. 26 evening, workers from Mandaveli sub-station were seen replacing a higher capacity transformer at Nadu Street. The AE of Mandaveli sub-station said, "We are replacing the 100 KVA (kilo-volt-ampere) distribution transformer present here with a transformer that has a capacity of 250 KVA."
This is carried out to prevent frequent power overload in summer, he says. "Now, if a cable fault occurs in this zone, the power from this transformer can be used to temporarily restore electricity in that area."
Similar work has been carried out at Srinivasan Street in Mandaveli, he says.