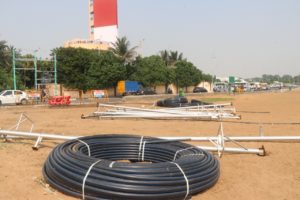 A series of heavy duty as well as standard cameras are being erected all along the Marina, from the Anna Square end to beyond the Light House end.
Workers have been working 24×7 this week to get the project done, executed by TN Toursim but meant for coastal security.
We are told that the cameras can keep a visual record of the sands and the sea for a great distance too and will be monitored by the TN Coastal Security Police.
The cameras can also come in handy t0 refer to when crimes are committed on the beach.
We are told that this project is to be executed in many coastal sections of the state and the Marina is part of the project.