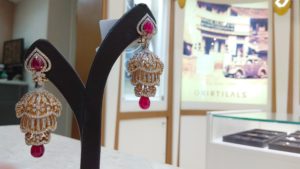 This jimikki transforms into a smaller size with a single touch.
Called 'One Touch Zimmiki', it has been specially curated by Kirtilals jewellery for women.
It was launched on Nov.22. on the occasion of the 80th anniversary celebrations of the store located on C. P. Ramaswamy Road, Alwarpet.
Said Seema Mehta, Director, Creative, Kirtilals, "The One Touch Jimmiki is designed by using the latest technology, keeping office-goers and millennials in mind."
It's price starts from Rs.2.5 lakhs onwards.
The diamond and gold jewellery store's business first started in Coimbatore in 1939. Over the years, the store has expanded its business across South India and abroad.
On the landmark occasion, Kirtilals also launched its new bridal collection 'Sindooram'
Seema said, "This bridal collection has all the jewellery that a bride would require today, right from the first ritual to the grand wedding reception. The collection is made with intricate elements of design along with simple yet unique detailing."
The store is offering Rs.8000 off per carat on all its diamond jewellery collection. Says Suraj Shantakumar, director, business strategy, "Customers can visit our manufacturing unit in Coimbatore to experience the art of jewellery making, "
The store at Alwarpet offers diamond rings, earrings, pendants, bangles, necklaces and other accessories.
Contact the store at 24660067.