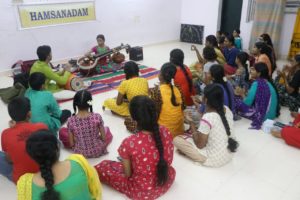 On Sunday evening, in a  hall of a building where Akshara Playschool is run on Arisikaran Street, Mylapore a little girl confidently sat down with her veena and launched into a Carnatic music concert.
Charulatha Chandrasekar was inaugurating the first of a series of chamber concerts by teen talent under the banner of Hamsanadam Music School which recently celebrated its silver jubilee. This school is managed by vocalist and guru Dr. Subha Ganesan.
Subha who lost her mridangam artiste father sometime ago has dedicated this series to her father, V. M. Ganesan while her mother, a well-known music guru has helped her curate the series.
The Sunday concert had many sishyas of Subha in attendance. The chamber concerts will be open to all.