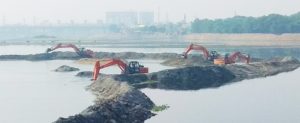 For the past few weeks, men and machines have been desilting the central portion of the Adyar river bed.
Contract workers of the state's civic agencies are using several earth excavators to remove the silt and muck from the river's bed.
The work is carried out to increase the water-holding capacity of the river and to avoid flooding during heavy rains.