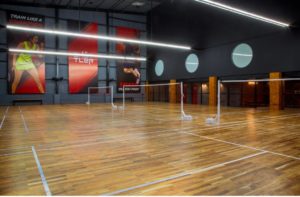 Shuttler, a new badminton facility with 6 courts has opened at Dr. Radhakrishnan Salai, Mylapore.
Spread across 10, 000 sq ft, the wooden surfaced courts are one of the largest dedicated badminton facility in the city, says Alagappan Meyyappan of Shuttler.
This is the eighth sports venue of Tiki Taka, a collective that provides rooftop football facilities in Chennai. They also have venues for basketball and cricket across the city.
Insulation sheets are fitted on top of the courts to absorb excess heat. The sports arena is also equipped with separate dressing rooms and restrooms for both men and women.
It also has a space for practicing warm-up exercises. Chennai based couple Prahlad and Lakshmi Palaniappan are the promoters of the facility.
Says Lakshmi Palaniappan, "In 2015, my husband Prahlad, who is also a football player launched our first venue when he realized that the Corporation's playgrounds were unsuitable for professional players."
Players can book the court on an hourly basis. The price is Rs. 800 per hour. Shuttler also provides Badminton coaching for women and children between 4 p.m. and 7 p.m. The coaching fee is Rs. 4000 for attending classes 5 days a week.
Located at Dr. Radhakrishnan Salai, 9th Street, Opposite to Citi Centre. Ph:7604984996.