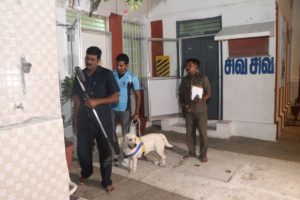 Mylapore police swung into action at Sri Kapali Temple on Thursday evening after the temple office received a letter stating that a bomb would go off at the temple campus.
Led by the newly-appointed DCP, policemen and women from the local police station as well from other divisions regulated entry and exits of the temple, frisked people and made them go through the screening appartus. Teams also checked the entire campus and offices.
Police dogs were also deployed in this operation.
The operation was closed after nothing dangerous was located.