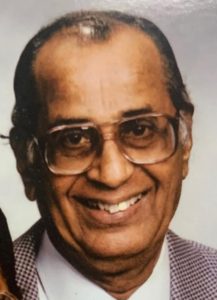 Justice S. Mohan, former Supreme Court judge, and longtime resident of Mylapore passed away after a brief illness on Dec.27. He was 89 years old.
He has been a resident of Justice Sundaram Road for over 10 years. The family later shifted to Venkatakrishna Road (his current house) in Mandaveli.
Born at Udumalpet in Coimbatore district in February 1930, Justice Mohan pursued law degree from the University of Madras. He did his post-graduation in Constitutional and International law.
In the year 1954, he enrolled as an Advocate in Madras High Court. After 17 years, he was appointed as  Advocate General. In 1975, he was made a permanent judge in Madras High Court.
He was officiated as Chief Justice of Karnataka High Court in October 1989. For a brief period in 1990, he also served as the Acting Governor of Karnataka.
Later, in October 1991, he took charge as a Judge in the Supreme Court of India and served till his retirement in February 1995.
Being an author of several English and Tamizh books, he worked as president of the World Congress of Poets for 6 years (2004-2010). He has also headed many institutions including St. John's Ambulance Association, Tamilnadu and the Kalakshetra Foundation in Thiruvanmiyur.
Talking about Mohan, daughter Sumati Subramanian said, "He was a people's person, a connoisseur in the field of Carnatic music and an avid tennis and cricket player."
He is survived by son Gautham Mohan and daughter Sumati Subramanian and their families. The family can be reached at 24937529.