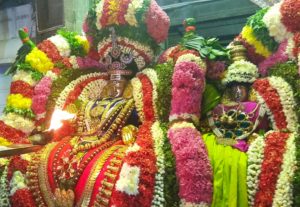 It was a cloudy evening on December 11. At Sri Kapali Temple, Mylapore the traditional Karthigai Deepam celebration was on.
Inside the temple, the chief priests performed special rituals and placed the earthen oil lamps at the gopuram above the sannidhis of Sri Murugan, Sri Kapaleeswarar, and Sri Karpagambal.
People kept streaming in and lit earthen oil lamps on the platform set up near Sri Annamalayar Sannidhi.
At the Navarathri mandapam, the panchamurtis – Sri Ganapathy, Sri Kapaleeshwarar, Sri Karpagambal, Sri Murugan and Sri Chandikeswarar were decorated with colourful flowers and jewellery.
Lster, dancing to the tunes of nadaswaram and tavil, volunteers carried the idols that were places on palanquins and moved in a procession to the 16-pillar mandapam on Sannidhi Street.
Vehicles were restricted from entering a section of East Mada Street opposite Rasi Silks where the chokka panai made of palmyra and coconut leaves was set up. It was then set alight and as the flames rose hundreds of people gathered to view the beautiful sight.
Later, the panchamurtis were taken in a procession around the Mada Streets. People had placed lit oil lamps in front of shops and houses on the streets.