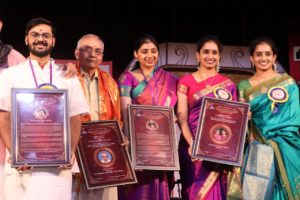 Carnatic music vocalist Ramakrishnan Murthy and USA-based dancer Anita Sivaraman were decorated with awards at the opening evening of the December Season music and dance fest of Kartik Fine Arts held on Sunday evening at Narada Gana Sabha.
The chief guest was M. K. Narayanan, former national security adviser and former governor of West Bengal.
Awards were also given to vocalists and sisters, Archana and Aarati and to S. V. S. Mani, secretary of Sri Thyaga Brahma Gana Sabha, T. Nagar.
Only a handful of people attended the event; the steady rains must have kept many others away.
Concerts start on Monday.
Kartik Fine Arts has collaborated with with its main sponsor, VR Chennai, a shopping space in Anna Nagar to arrange concerts at the mall this season.