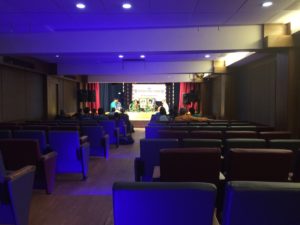 The small auditorium of Narada Gana Sabha's complex on TTK Road in Alwarpet now has a smart look after fullscale redesign and renovation took place.
Located on the first floor at the rear, south side of the auditorium complex, this hall, commonly called mini hall now has refurbished seating, padded walls, better space in the aisle and on the side and access to two side exits which are well lit and a Bose audio sound system fitted inside the hall.
It can seat over 150 people and is best suited for music concerts. Dance recitals are also held here and some theatre groups have already shown interest in staging small plays here.
Access is available via  the stairs as well as a lift, and a ramp makes it easy for seniors and less abled to get into the auditorium. The lobby is well-lit as is the space adjoining the hall where the side exits are located.