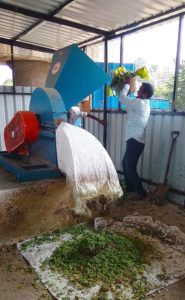 Chennai Corporation's ward 124 unit has come up with a new initiative to improve the composting of bio-degradable waste.
The team is now using a shredding machine to powder the bio-degradable waste prior to feeding it inside the compost structures.
Says Malathi, animator of ward 124, "As the bio-degradable waste, becomes finely powdered after shredding, we are able to generate the compost in just 22 days."
Earlier, the civic workers had to manually cut the vegetables and fruits peels after collecting them at every door and from restaurants and vegetable markets at South Mada Street and Mandaveli Street.
"Even after slicing them, it used to take nearly 45 days for the composting process to be completed as the particles were relatively larger," Malathi says.
The unit has its compost yard opposite its divisional office at Kutchery Road. A set of 16 cement ring compost structures are placed on the ground, below the MRTS railway track off the Buckingham canal.
Malathi says they started following this method after Chennai Corporation's commissioner G.Prakash suggested all division offices to follow this method.
The shredding machine was earlier meant for grinding used tender coconuts. "Now, we send coconut waste for shredding at our zonal office. And use this machine dedicatedly for powdering vegetable waste," she says.
Once in a week, the civic workers have also been selling the compost at Ponambala Vathiyar Street near Sri Kapali Temple. "Till now, we have sold over 1000 kilos, " Malathi says. A kilo of compost is priced at Rs.20.
People who may want the compost may contact the Conservancy Inspector Mahadevan at 9445190624.