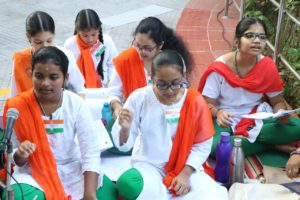 Communities in the Mylapore neighborhood came together to celebrate Republic Day of the country, its 71st in their own ways.
At Rasika Ranjani Sabha, the menders of this sabha and well wishers hoisted the national flag on the campus.
In the same area, the celebrations at Lady Sivaswamy Ayyar Girls School were formal, with students taking part in a march past and parade leading up to the hoisting of the Indian flag.
At St. Isabel's Hospital campus, the nurses and the students who attend the nursing course that is run here, came together to celebrate the occasion. They drew a large rangoli with the image of India and its people. The nursing course students, colorfully dressed in costumes presented  a medley of dances.
Walkers and children who frequent Nageswara Rao Park in Luz got up a simple function for the occasion while the community of CIT Colony, Mylapore organised a concert by teenagers to mark the occasion ( featured in the photo here).
A large number of Mylaporeans headed out to the Marina to watch the Republic Day parade there.
Flag-hoisting events were held in various campuses and colonies that morning.