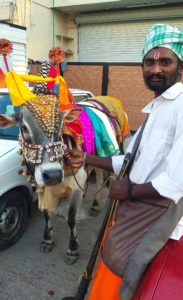 During this Pongal festival, Mylaporeans were intrigued by this 'boom boom maadu' and its master Govindaraj. The duo went around streets in the neighbourhood to greet residents and tell little nuggets about their fortune.
Adorned with a special jewellary, bells, and anklets, the bull politely shook its head, raised one of its legs to symbolically say 'vanakkam' or kissed people (those who were willing) in response to the yes or no questions asked by his master.
People got its blessings and offered some money or clothes for their services. Standing at Kapaleeswarar Sannidhi Street, Govindaraj also played nadaswaram to make the six-year-old bull perform.
Govindaraj belongs to the 'boom boom mattukarar' community who earn a living by making the bulls perform for fortune-telling at public places.
Along with him, Govindaraj says some 12 boom boom mattukarars stay at kutcha houses on the far end of Leith Castle South Street in San Thome.
Says Govindaraj, "Through the year, we go to various places in the city, and attend temple thiruvizha to earn a living. On an average, we get around Rs 300 a day," he says.
Unlike many years ago, Govindaraj says their business is no longer booming due to low patronage. Hence, now we also go for film shootings and colleges that invite us to perform the traditional art form.
The 27-year-old boom-boom mattukarar has a wife who is a home-maker and a son who studies at a school at a village near Chennai."My son is not interested in this work. So I will let him take up whatever profession he likes." But Govindaraj says he is determined to continue this tradition, as long as he can.
People who wish to get his services may call 8270649776.