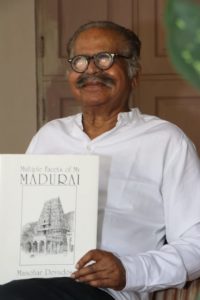 The multi-faceted Manohar Devadoss of San Thome has been chosen for the Padma Shri award this year.
A resident of Papanasam Sivan Road, that runs west from San Thome High Road near Dominic Savio School Manohar Devadoss has been chosen for this national award for his contribution to art.
So what has been this contribution to art?
For over five decades Manohar, who hails from Madurai has been drawing and painting illustrations of all kinds – of Madurai, its life and its landmarks, of Madras and Chennai, its life, its people and its landmarks and on many other subjects that interest him.
But he has been doing this and more despite his failing sight.
Even more remarkable about this man is that he has used his creative energies to raise lots and lots of funds that have been donated to charity. Manohar, for many years produced unique greeting cards based on his signature illustrations and gave them to many business houses in return for monies that were channeled to social agencies that need funds badly.
Manohar, now 84 has also written a few interesting books that also carry his signature illustrations. His most popular book is on Madurai.
Even in this day, Manohar has not allowed his disability ( he has now lost his sight) to take him to functions held in the city and outside. Such is his zest for life.
Nor has he allowed the loss of his wife Mahema, who was restricted to a wheelchair after a nasty accident and paralysed and who was the love of his life stop him from associating with events that interests him and enjoying the company of a large number of friends and well-wishers.