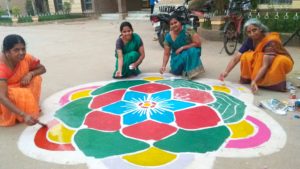 Women's empowerment is the theme of the annual day celebrations of Monfort Higher Secondary School, San Thome, this year.
The school will be celebrating its 54th Annual Day tomorrow.
On Friday evening, the campus was abuzz with teachers and children drawing colourful rangolis and rehearsing for the dance performances for Saturday's celebration.
Said Arockia Sahayaraj, principal and correspondent of this school, says, "We believe empowering women is very important especially at a time when crimes against them are steadily increasing. So most of the performances are by girls. The cultural programmes are also curated to emphasise its importance."
The school is also equipping young girls with skills that they may require to defend themselves when they are in a vulnerable situation.
"Girls from classes 1 to 9 are taught karate and silambam regularly. From this year, we are also conducting classes on sex education which involves teaching them about good touch and bad touch," he says.
The Annual Day celebration will be held at the Monfort Indoor Stadium in this campus, starting 5.15 p.m.