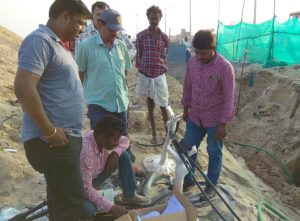 Work is on at the sandy area off Loop Road in Patinapakkam to lay the submarine cable connecting Andaman and Nicobar Islands and Chennai.
It is being carried out as part of the BSNL's project to provide high-speed internet connectivity to the islands.
A few days back, a huge ship started laying cable undersea. Earth excavators were seen digging the sandy area to facilitate the process.
Said a BSNL official who was at the site, "It will take at least 20 days to complete laying the optical fiber cable along a stretch of 1450 km."
Once the project begins, he says they plan to transmit 6.4 terabytes/sec optical waves through the cable.
The transmitting (landing) station for the same is under construction at R.K.Mutt Road, opposite to Rani Meyyammai Girls' School.
The project is set to begin in June this year.