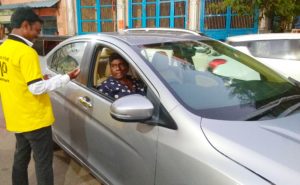 To reduce the parking woes of people in the jam-packed Mada streets around Sri Kapaleeswarar Temple, WannaPark, an App-based valet parking service started operating here recently.
Started by two friends Nishanth Kumar and Satish Kumar, the Madipakkam based start-up is becoming popular now.
The Chennai based former software professionals ventured into this business after they realized a demand for valet parking services in the city.
Says Nishanth," Apart from our official partners – Rasi silks on Kapaleeswarar Sannidhi Street and Sangeetha restaurant on South Mada Street, number of people visiting Sri Kapaleeswarar Temple, Bharatiya Vidya Bhavan, and R.R.Sabha are using our services."
In a day, Nishanth says they serve at least 40 cars. Says Dinesh, a WannaPark user from Ashok Nagar, "I have been using their services from the past three months. Whenever I visit the temple, parking used to be a big problem for me. Now, I find their service very convenient."
The WannaPark team operates with just 12 people. And offers parking services only for cars visiting this zone. Says Nishanth, "We plan to expand to other parts of the city once we get sufficient funds."
People can make use of their service either through the WannaPark App (available on Playstore/ Appstore) or through Manual booking after reaching the destination. Clad in yellow T-shirts, its drivers can be seen at the junction of Kapaleeswar Sannidhi Street and East Mada Street.
The valet drivers will pick your car and park it at their parking space opposite Sri Sai baba temple on Venkatesa Agraharam Street (The group has partnered with the Thirumayilai MRTS station to use a part of its parking space)
The App will also allow people to track the location of the car till it reaches them. Says Satish, "We ensure to deliver the car safely. If any damage is incurred by us, we will take responsibility and get it repaired."
The service is priced at Rs.50 (Rs 20 for Valet charges and Rs 30 for parking charges.)