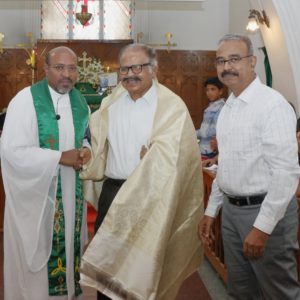 Manohar Devadoss, the artist-writer-scientist who is well-known for his exquisite pen and ink drawings of Madurai and Madras and who was recently chosen by the government of India for the Padma Shri award was felicitated at a recent Sunday morning Worship Service at CSI St. Thomas English Church, San Thome.
Manohar Devadoss and his late wife Mahema have been members of this church since the 1960s.
Manohar shared his thoughts on his creative passions with the congregation after the formal felicitation. He is a resident of San Thome.