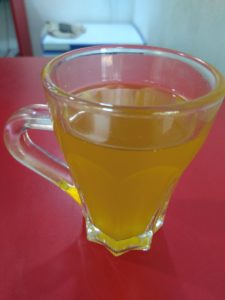 The sweet and tangy Turkish tea is the new addition at Grind Coffee House in Kutchery Road, Mylapore.
The filter coffee joint recently opened next to Mylapore Head Post office here.
Says Jyothi, owner of the shop, "We source the tea powder from our suppliers in Turkey. Honey and ginger are added to make the tea."
She says that the tea is becoming popular now. "Atleast a dozen people are buying it daily."
Hot and cold versions of the tea are available. It is priced at Rs.30.
The shop also sells coffee powder from Coorg, Karnataka,  that it uses to make coffee and homemade paruppu podi (with or without garlic).
Jyothi says that paruppu podi will be made fresh only after receiving orders from people. For details call Jyothi at 9841129703.