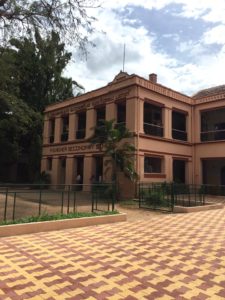 This small group of men in their late 60s are on a mission – to contact as many as they can of the 300 plus 'boys' who belong to the 1970 batch of P. S. Higher Secondary School in Mylapore.
The goal – to gather a large community of the 'old boys' for a grand, 'golden jubilee' Reunion celebration planned later this year.
The boys have not been in touch. So at the moment a dozen of the batch have connected and the dozen are working overtime to dig up old diaries and tap local contacts to enlarge the old boys group.
The small group has had a meeting on February 2. "We were all terribly excited that morning," says Eswaran, one of the key motivators of this group. "It was a time to reminisce on the glorious past and have some fun."
The meeting of the alumni was convened at short notice after the group received a call the school management of the intention to celebrate the 'golden jubilee' event in a grand manner.
Dr.U. V. Ramakrishnan who is based in Mylapore was the first point of contact.  He managed to renew some of his 'old boys' contacts.
14 'boys' from Sections 11 A  and 11B made it to the Feb.2 meeting in the school campus. The meet was held in classroom 7B and everyone present relived campus memories.
Says Easwaran, "The meeting was formally inaugurated by Dr. Ramakrishnan by invoking the school prayer which was recited by all those present."
The group plans to meet again in March.
It has created a managing committee from the fourteen who were present. Since then, contact has been made with some 40 'old boys'.
But the group intends to reach out to lots more. T. L. Maharajan, the famous playback singer who has sung lots of devotional songs was from this batch.
The people to contact are – Easwaran – 9444424295. Dr U. V. Radhakrishnan – 9841008678 and T. N. – Janakiraman 9380523306
Photo courtesy: P. S. School