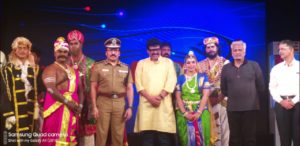 A group of people have now formed a voluntary body called Penn which aims to create a safe environment for women and help them tackle crimes at various levels. Its office is based in Mylapore.
Women and girls in city schools and colleges in the city will be educated on aspects of crime prevention, online safety and self defence techniques. 
Penn was launched on Feb.8 at Narada Gana Sabha by asst. director general of police, M.Ravi, asst. commissioner of commercial tax, G. Lakshmi Priya, director of Kalakshetra, Revathy Ramachandran and actress Revathi.
A dance drama on the life of Velu Nachiyar, a queen who fought against the British colonial power was staged here to raise funds for Penn.
The Penn team consists of V. S. Sridhar, a senior corporate executive, 'Krav Maga' Sree Ram, consultant to TN Police who has promoted Krav Maga safety training for women, Anand, a technocrat, Sriram Sharma, director, music composer and playwright and
Swarnalatha Mahesh, advocate.
The registered office of Penn is at Apparsamy Koil Street, Mylapore. You can contact Penn at 92824 01503 or e-mail at pennindia2020@gmail.com
– Report by Juliana Sridhar