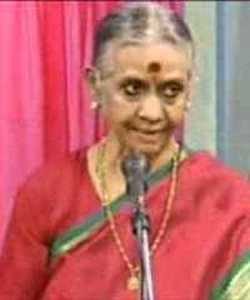 A wellknown Carnatic music artiste of the past, Mani Krishnaswami is being remembered at an event today ( Feb.3 evening) on the occasion of her 90th birth anniversary.
The event at Raga Sudha Hall, Luz Avenue includes a tribute speech by M K Sudarshan, an award in memory of the vocalist and her husband, Krishnaswami to be conferred on the Bombay Sisters, vocalists C. Saroja and C. Lalitha who were recently chosen for the Padma Shri award, felicitations by vidwan Prof. T. N. Krishnan and vocalist and guru Suguna Varadachari and a concert by Aathreyee Krishna Karkala.
Mani Krishnaswami studied music at Kalakshetra and went on to learn more under a galaxy of gurus of her time – Mysore Varadachariar, Budalur Krishnamurthy, Tiger Varadachariar, Musiri Subramania Iyer and Papanasam Sivan.
She was the torch-bearer of the Musiri Subramania style of singing.
Among the awards she was decorated with are the Padma Shri, the Sangeet Natak Akademi award and the Sangita Kalanidhi award.
Contact – 9884287078 / 9884287312.