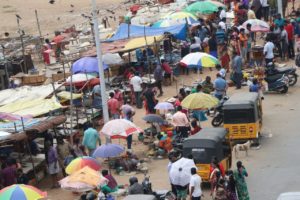 The state government's idea of constructing a road and bridge that links the Marina with Besant Nagar is being received with mixed reactions.
The plan is mooted to reduce the traffic load on the road leading from R. A. Puram to Adyar over the Thiru Vi Ka bridge and beyond and reduce the travel time for people who reside on the south side of the Adyar river.
A bridge that linked Srinivasapuram, the colony on the Marina side with the beach alongside the walls of Theosophical Society in Besant Nagar collapsed many years ago and is popularly referred to as Broken Bridge. The narrow bridge served the movement of fisherfolk in colonies on either banks of the Adyar river.
Those against the new idea say that building a road and bridge that carries heavy traffic will disturb the natural geography, violate coastal regulations.
The Marina Loop Road has been in the news because the Madras High Court has taken a close look at issues like explosion of hawkers on Marina's sands and the pollution caused, of fish hawkers taking over the sands, pavement and part of the Loop Road to sell fish in the open which hinders free flow of traffic on this relaid road.
Fish hawkers have opposed relocation.
Their leaders say that this area is part of their work zone, that it must not be disturbed with road development and that the state forced the expansion of the Loop Road to carry traffic that was choking San Thome High Road.