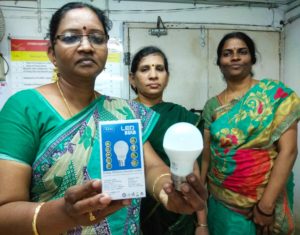 LED bulbs are on sale at the Head Post office in Mylapore, on Kutchery Road. And they are sold at subsidised rates.
The Business Development (BD) unit of Mylapore Head Post Office has collaborated with Philips company to sell the LED bulbs.
At present, 9 watt LED bulbs are on sale here. Each is priced at Rs 70.
People may buy the bulbs after providing their mobile number and a copy of photo ID card. The bulbs come with one year warranty.
Says a staff of this unit, "Within the warranty period, if the bulb stops functioning, it can be exchanged at any post office that offers this service."
She says that this sale will be expanded to all post offices soon.
The BD unit functions from the basement of this post office. Other services offered by this unit include International Money Transfer, sale of gangajal from Uttarakhand and booking of T.T.D (Tirumala Tirupati Devasthanam) special darshan tickets.
Bulb sales are on from 10 a.m. to 6 p.m. on all days except Sunday. For details contact 24951737.