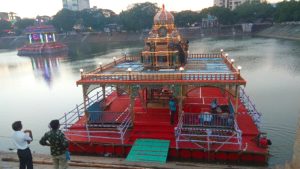 The final leg of preparations for the annual Thai poosam Teppam (float) festival is on at Sri Kapaleeswarar Temple in Mylapore.
The huge float meant for carrying the gods has been constructed. Says Balaji, a volunteer who heads the construction of the float, "We used around 250 oil barrels for its construction."
The teppam and the mandapam at the tank's central portion have been illuminated with colorful serial lights.
A unique feature of the float is that the parts used for constructing its top portion, including the gopuram are some 100 years old. Balaji says, "We have been traditionally using it for many years now. All its parts are made of teak wood and are 100 years old. Such intricate designs are not made nowadays. "
Every year, just before teppam festival, the traditional artisans carry out small repair works on them. Later, the parts are also given a touch up using paint. "Once in five years, the structures are completely re-painted."
After the festival, he says the parts are preserved in separate storage space inside the temple.
The teppam festival is from Feb. 8 to 10. People will be allowed to sit on the steps of the tank and watch the teppam.