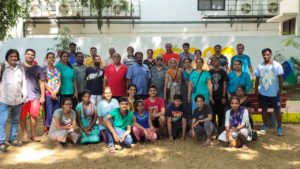 On Sunday, March 15 morning, nearly 60 people, which included Karam Korpom volunteers, children, residents and visitors, got together to paint the walls at the Chennai Corporation Ppark at Demonte Colony, Abiramapuram.
The wall art project was sponsored by Greater Chennai Corporation with the support of executive engineer T. Iniyan and area engineer Arul Maran.
The theme revolved around nature and wildlife. Messages about the need to save water and protect trees were also painted on the walls.
The civic body has revitalised what used to be a rundown public space and it now attracts more walkers and residents.
But there are other problems – security and maintenance. The park is located in the middle of what is now a abandoned colony whose streets are garbage dumps and parking lots and though well lit, are empty after dusk.
This is the 49th project of the Karam Korpom Trust. They celebrate their golden jubilee next week. For details visit their Facebook page at https://www.facebook.com/sapschennai/.