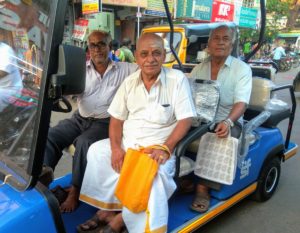 Electric golf carts have started ferrying senior Mylaporeans from in and around Mada streets to Sri Kapaleeswarar temple, Mylapore.
On March 12, Chennai headquartered non-banking finance company, Sundaram Finance donated two battery-operated electric golf carts to Sri Kapaleeswarar Temple.
The service was launched mainly to help devotees, especially seniors and physically challenged persons to access the temple easily.
Said a senior who was travelling on the electric cart, "This is a very useful service for people like us. The ride is very comfortable."
The battery carts pick up devotees from a point near Mylapore tank bus stand and ferry them to the eastern entrance of Sri Kapaleeswarar Temple. They also pick up devotees from this entrance and drop them at their preferred location on the Mada streets.

The service will be available from 6. 30 am to 12.30 pm and from 4. pm to 9. pm